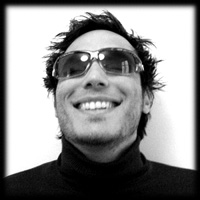 Movie of the day : Le prix du désir
Album of the day : Pomme C.Calo
Website of the day :
http://free.fr
(Si vous avez des probl?mes avec votre Free Box.)
Instrument : Cordes Vocales
Gear : Cordes Vocales
Favorite bands and musicians : Difficile de choisir entre Puccini et Les Forbans.
Favorite albums : Le prochain Pierre Bachelet
Favorite cover : A la Gueule des Noyés.Calogero.
Favorite books : Récemment la Poursuite du Bonheur de Douglas Kennedy
Favorite movies : Desperate Housewives.Episodes 13 et 22.